For reasons beyond my control, I will miss the first three episodes of the new series of Game of Thrones. This means that I will have to stay off the internet until such time that I can get to my Sky Plus machine and catch up. Or does it?  Logically there is no way to prevent spoilers being posted on news websites and blogs, but there might be a way that I can still go on Facebook, Twitter and Instagram without fear of having my binge-watch ruined by my Friends and Followers.
And that way, ladies and gentlemen, is Juice Plus.
Now, whether necking a load of pills and quite frankly disgusting-looking milkshakes every day is any better for you than actually, you know, eating is not for me to say. Nor is it my place to suggest that the Juice Plus  business model bears a shocking resemblance to a pyramid scheme.  I will say is that chances are you follow at least one Juice Plus disciple on social media. Even if you think you don't, you do. They are very easy to spot.  They  are the ones who post an inspirational quote every morning without fail to demonstrate just how happy and motivated they are. They are the ones always looking for new people to join their team and live their dreams. They want to inspire healthy living around the world while posing with fluorescent pills that your neighbourhood Dealer would consider pretty dodgy.  They have not yet made the connection between their rapid weight loss and the fact that they are exercising more and eating less, instead attributing their new figure to the power of positive thinking and the hundreds of fruits and vegetables that can be found in each Juice Plus capsule. I could go on.
It isn't clear if they are putting it on to try and attract business or if Juice Plus pills are the twenty-first century equivalent of Kool-Aid. What is clear is the fact that you will probably find one or two people on your social media who swear by Juice Plus and all their products while cluttering up your newsfeed with Gym selfies and invitations to surrender your will to the Healthy Living collective. A bit annoying, yes, but you can ignore them. Right?
Wrong.  Or at the very least you will be if I log on to Facebook and see something I shouldn't. Like whether Jon Snow is alive or dead, for example. Or indeed anything that could potentially be a spoiler. If anyone so much as mentions Game of Thrones, I will fill their wall with adverts for Juice Plus capsules. I will bombard them with inspirational quotes and posters and tell them daily just how true it is to Wake Up with Determination and to Go to Bed with Satisfaction. I will personally see to it that every Juice Plus rep in a hundred miles will know that the offending party wants to join their team and start a revolution.
Make no mistake. I have read every book in A Song of Ice and Fire. I have watched as Game of Thrones has slowly moved away from the plotlines in the novels and into uncharted territory.  Now I find myself not knowing what is going to happen next, and I will be damned if some blabbermouth on my newsfeed needs to give us an update every time Drogon shows up.  I will do it. No joke.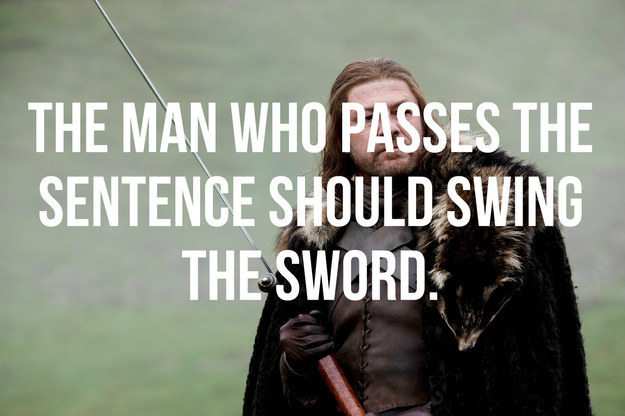 So here it is: unless you want your life to become a neverending stream of cheesy affirmations, clean living and expensive placebos, then you will keep your mouth shut and your reactions off the internet for at least four weeks. Consider yourselves warned.
Valar Morghulis, bitches.
Oh, by the way, I'm off to New York next week. And I will be posting new Blogs live from the USA. Will I get my replica Blunderbuss through Customs?  Will my travelling companions be convinced to take the stairs when visiting the Empire State Building? Is it a good idea to take your iPad out in Hell's Kitchen? Tune in next week to find out!